Te Ao Mā'ohi Provides
Words by Travis Weller
When my death grip on the two stainless steel handles near the bow of the speed boat was finally released, my trembling, blistered hands were barely able to wring the saltwater out of my drowned tee shirt. Sunglasses, slippers and a hat had all been sacrificed to the large open ocean swells, but Te Ao Mā'ohi would continually provide.

Three days earlier our motley bunch of climbers, surfers and runners was loading a seemingly endless amount of gear and Hinano onto the catamaran that would become our home as we made the long journey from Tahiti deep into the Tuamotu Archipelago. There was an aura of nervous excitement as we motored out of the harbor and watched an array of towering waterfalls slowly slip out of sight as we entered the immensity of the South Pacific Ocean. The Hinanos flowed and apprehension dissolved, while the sky began to glow like molten iron. As the luminous colors faded to a twinkling blackness the ocean offered us a bioluminescence light show before the growing swell rocked us to sleep.

Morning meditations were followed with an invite to reflect on our journey by a vibrant rainbow spanning the soft morning sky. What was on the horizon for us? We were to soon find out as land appeared on the skyline. Met with towering walls of limestone jutting vertically out of the ocean the stoke level was rapidly growing to hop in the dinghy, slip through the keyhole in the reef and explore the raised coral atoll of Mangaia-te-vai-tamae, more commonly known as Makatea. Once on land we were met by a local climber, Patu, who would become a critical figure throughout the rest of this journey. While seasoned climbers Jeff Johnson and Drew Smith sorted gear for their first route, a few of us got our land legs back by roaming the palm studded coastline, straining our necks to peer towards the tops of these lofty walls. The feeling of nervous excitement that so effortlessly dissipated the night before instantaneously arose as Patu appeared from behind a clump of palms and invited us to climb. It would be the first climbing experience for myself, professional barrel wrangler Nate Zoller and local Tahitian big wave charger Tereva David. Once we all topped out into a cave high above the sparkling water it was clear Te Ao Mā'ohi was providing once again. Another opportunity arose to climb later in the day and this time the collective stoke was as high as the limestone walls. With sore hands and nicked knees we took turns navigating the reef pass back to the catamaran with only the moon serving as a guiding light.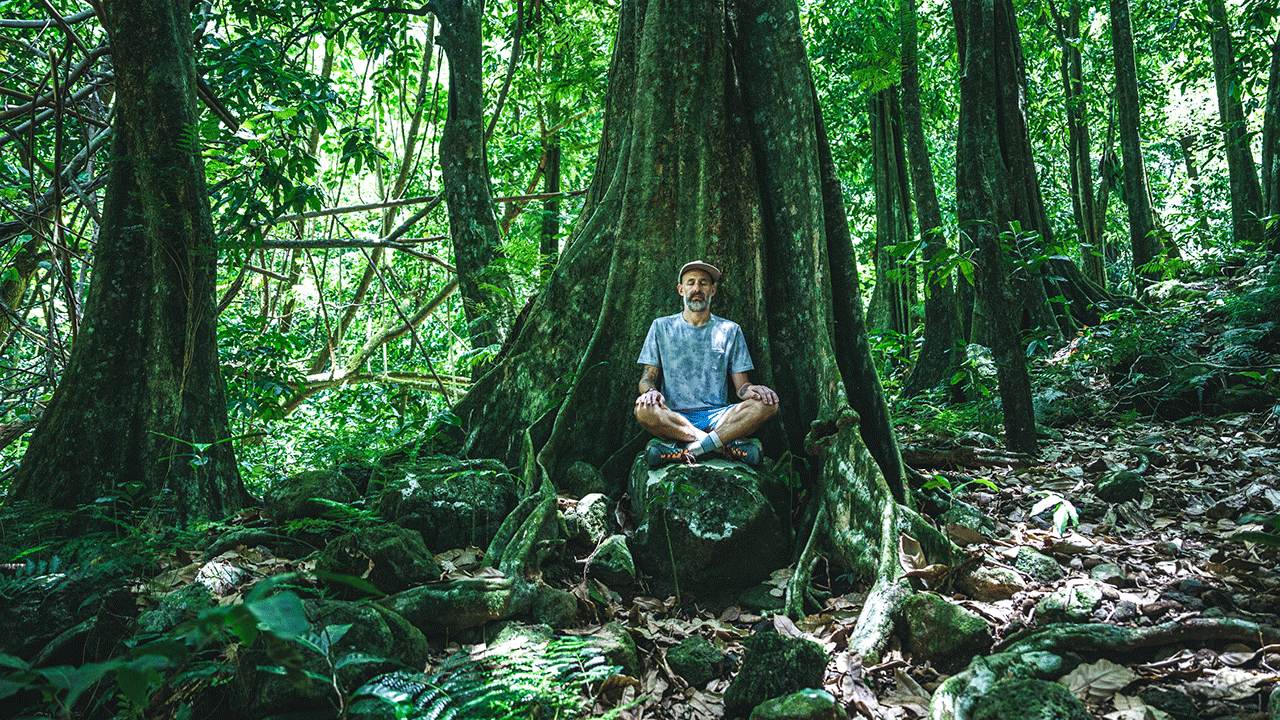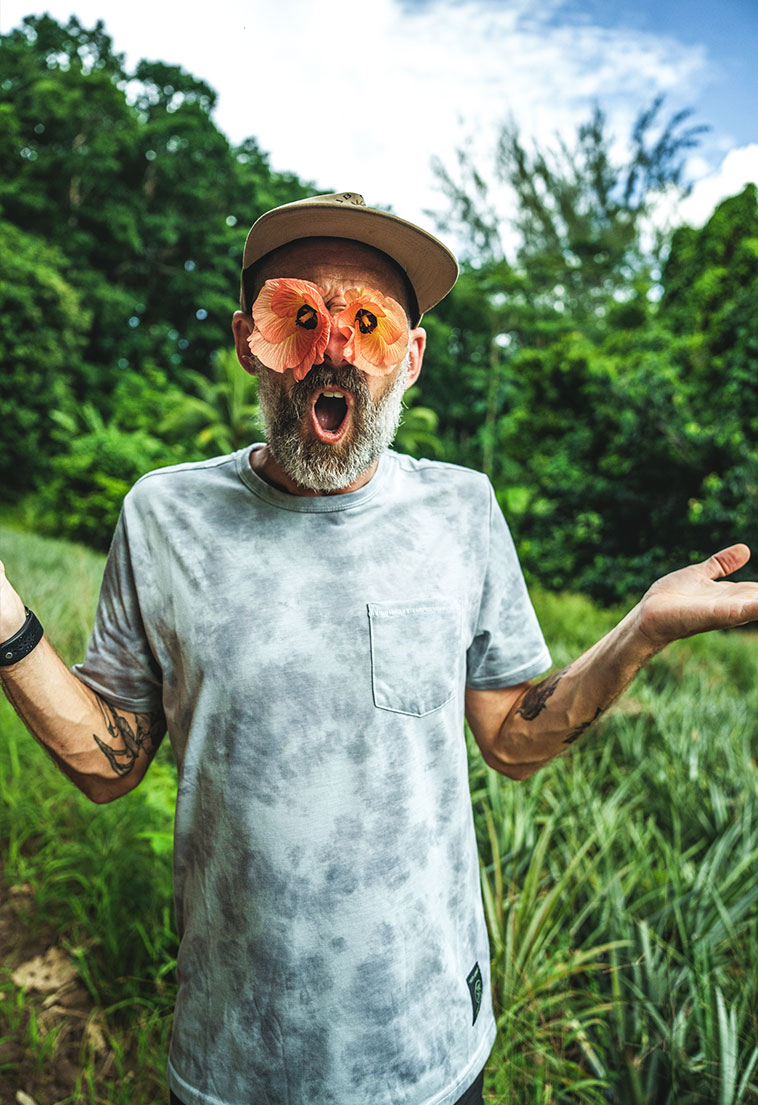 " When my death grip on the two stainless steel handles near the bow of the speed boat was finally released, my trembling, blistered hands were barely able to wring the saltwater out of my drowned tee shirt. Sunglasses, slippers and a hat had all been sacrificed to the large open ocean swells, but Te Ao Mā'ohi would continually provide."
- Travis Weller
Another over night crossing would bring us drifting through a small reef pass with the promise of waves as the sun crested the horizon.
After a couple rounds of coffee, bread and fruit boards were quickly waxed, sunscreen liberally applied and Jeff, Nate, Tereva and writer/surfer from Kailua, Hawai'i, Beau Flemister were in the water sharing long, barreling rights grinding their way over shallow coral heads towards the channel. As an enthusiastic goofy foot who surfs about as confidently on my backhand as I do running ultramarathons backwards, I decided this wave was not in my cards. I offered my board to current world and people's champ, Harrison Roach, who suffered an injury prior to the trip that had kept his normal hard charging pursuits at bay. Maybe a paddle through the lagoon or into the channel would be enough to quench the desire to glide across the clear, moving walls of water? With that decision made, myself and my brothers-in-run Rio Lakeshore and Drew Smith boarded the dinghy for some running on the atoll. We were greeted upon landing by a crew of locals who instantly invited us to sit and eat with them at their open air dining table. Bowls of freshly caught, fried whole fish and rice were passed around the table as we communally enjoyed the nourishing meal. Given language barriers, words were replaced with shakas and smiles until all that was left was a pile of bones. We cleaned our dishes, gave thanks and waded across a shallow channel, bags held high, to run on an uninhabited atoll except for the numerous strawberry hermit crabs. We ran as far as we could, then returned to watch the crew surf from within a makeshift shade structure on the point. To my surprise the first person I see is Harrison effortlessly gliding across the wave in his unmistakeable elegant style, smile from ear to ear. His joy was infectious and I was beyond psyched to him charging the even sketchier barreling left during the evening session. Te Ao Mā'ohi provides.  
 
The next morning Rio, Drew and I prepared to board the aforementioned speed boat, aptly named Da Kine, that would deliver us to a nearby atoll with an airstrip to catch a flight back to Tahiti. As the boat neared our catamaran the captain pulled a massive Mahi-Mahi, that he had speared on his way to gather us, out of the storage box and handed it to our Captain, Alex and cook, Ra'i to cut and prepare for the day's meals. We exchanged hugs with the crew, climbed aboard the boat and replaced the previously Mahi filled storage box with our gear. More shakas were exchanged and the captain moved the throttle into FULL ON, where it would stay for the next three hours. Blasting across the open ocean in a small speed boat during a large swell and wind event is not for the faint at heart. Find something to hold on to, grasp it as tightly as possible and don't even think about letting go. Anything not permanently attached quickly sunk to the depths of the ocean. Going near vertical as we crested swells before the hull slammed back into the next trough became the rhythm of the passage. It was one of the most sensory overloading experiences of my life both in the unexpected intensity and peacefulness of it all. While our ears were being blasted with the roar of wind and sea, flying fish would be dancing across the jumbled ocean in an almost choreographed performance. Seabirds would be hovering above the hefty swells, signaling a school of fish just below the surface. There always seemed to be a calming balance to the ferocity of it all. Once we reached our destination, crawled off the boat and into the overbearing midday sun a familiar face appears. It's Tapu from Makatea. He generously offers to carry some gear and give my trembling hands a momentary rest. Our journey's back to Tahiti have randomly coincided and after a short flight we find ourselves walking from the Pape'ete airport to Tapu's home for a quick shower and a few cold Hinanos before catching the last daily ferry to Mo'orea. Tapu kindly offered to let us store unnecessary gear at his place to lighten our load on Mo'orea before driving us to the ferry docks. Te Ao Mā'ohi provides.  
 
As the ferry makes its way into the small bay on Mo'orea to unload, we are dazed by the natural beauty of the island. Majestic peaks reach vertically towards the sky above dense jungle and crystal clear water. After disembarking the ferry we headed towards our hostel only interrupted by a stop for Hinano, rum and baguettes. We fell into our bunks with early alarms set for the morning. Our goal for the next day, run as high as we can towards the tops of Mt. Mou'aroa and Mt. Tohivea, Mo'orea's 3,000 and 4,000 foot peaks. We reached the trailhead early, stuffed our packs and headed into the jungle. The winding, muddy trail wove through forests of banyan trees and a thickets of bamboo with stream crossings sprinkled in the lower sections. Running up mountains in intense heat, humidity and thick jungle growth, even with an established trail system, is slow going especially compared to the perfectly groomed and graded trails we often find ourselves running on throughout coastal California. We eventually made it to the base of the peaks, dripping in sweat as if we'd been swimming, for a much needed breather and to rehydrate. The trail had disappeared by this point and we bushwhacked looking for a spot to climb higher. After a few failed attempts we decided to begin the journey back down, enjoying the downhill trajectory for this portion of the run. We made it back to the trailhead where baguettes, a massive avocado and some chilled Hinano were waiting for us. Slowly, we removed our mud caked shoes and socks, found a spot to sit under a sprawling Ceiba tree and shared our much deserved lunch with the local flock of chickens. Once down off the mountain we explored the small island and were once again dazed by its beauty, this time of the locals. When we'd stop to buy fruit from a roadside table, our bellies would be filled before purchasing any fruit.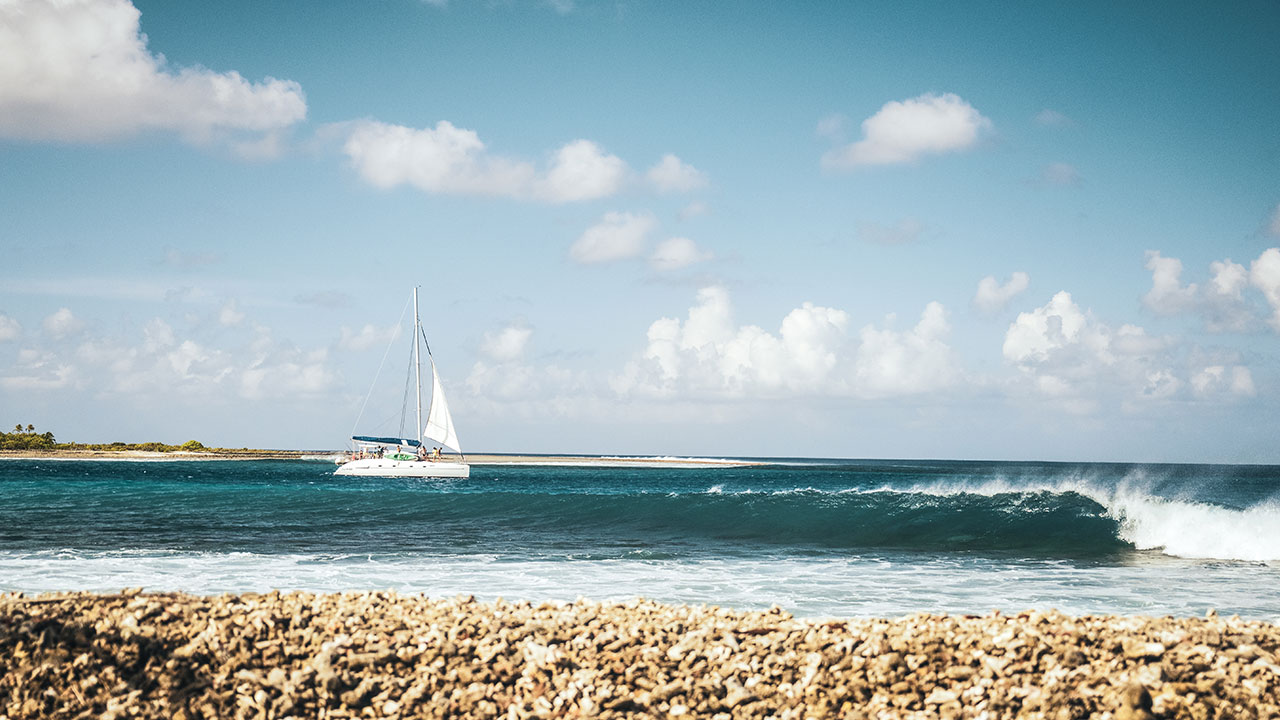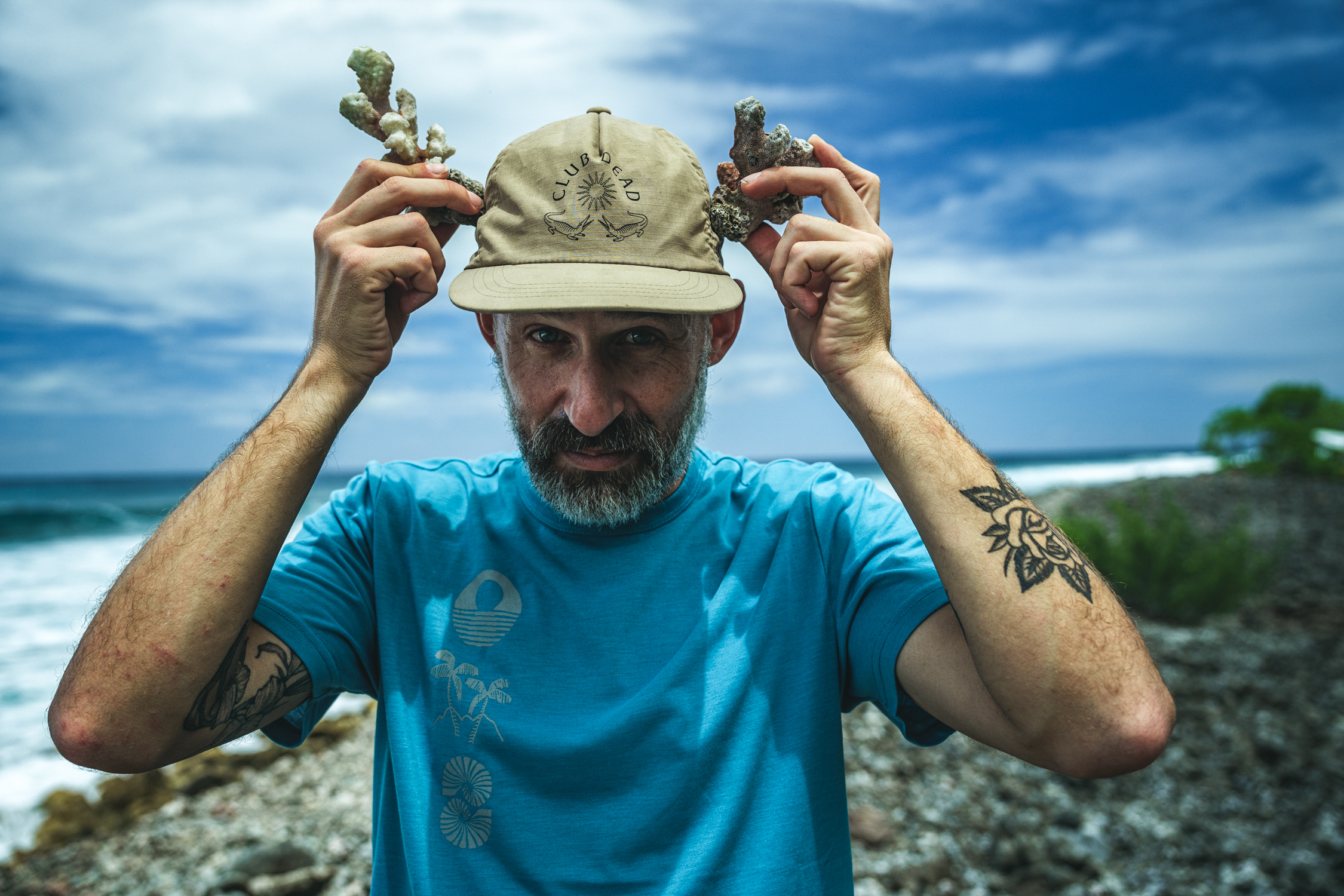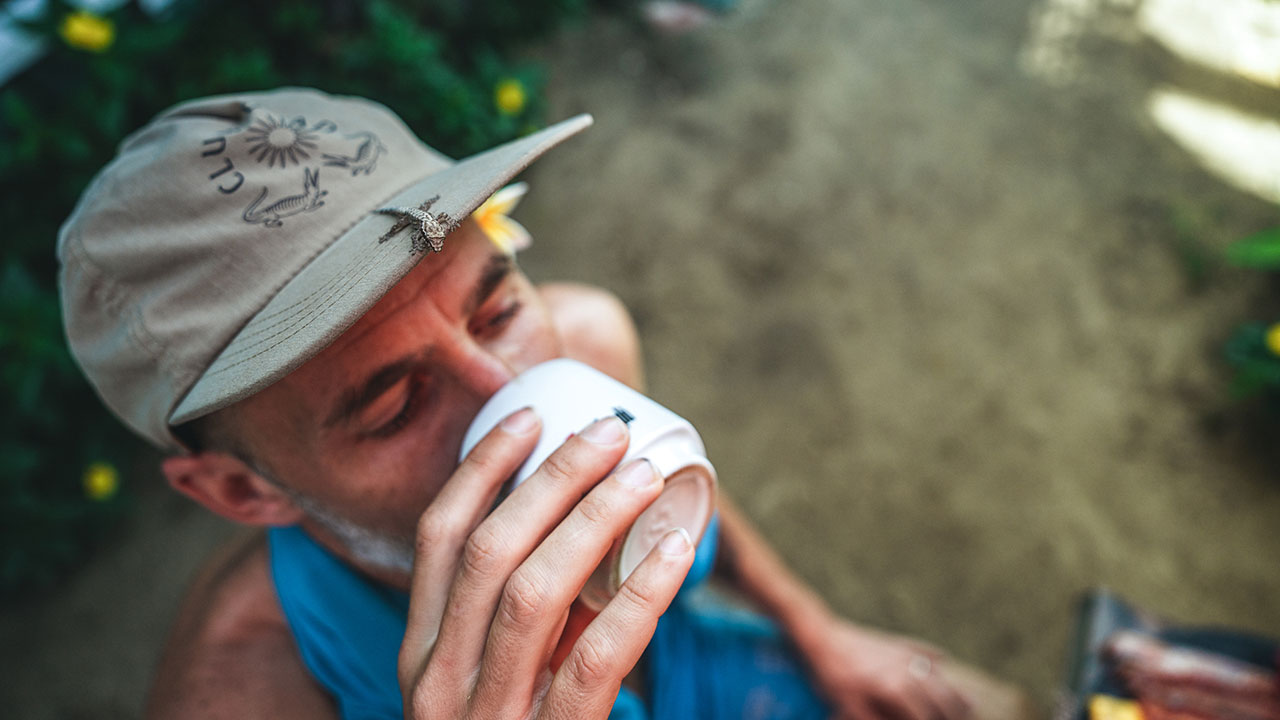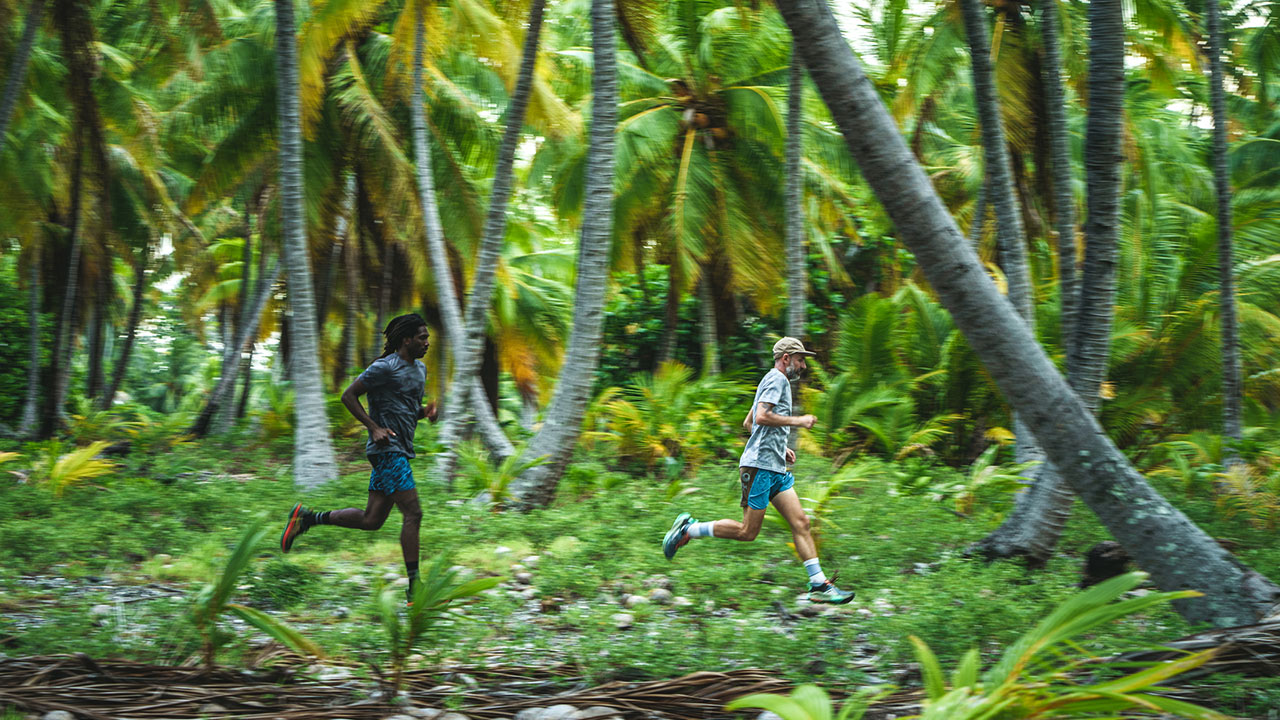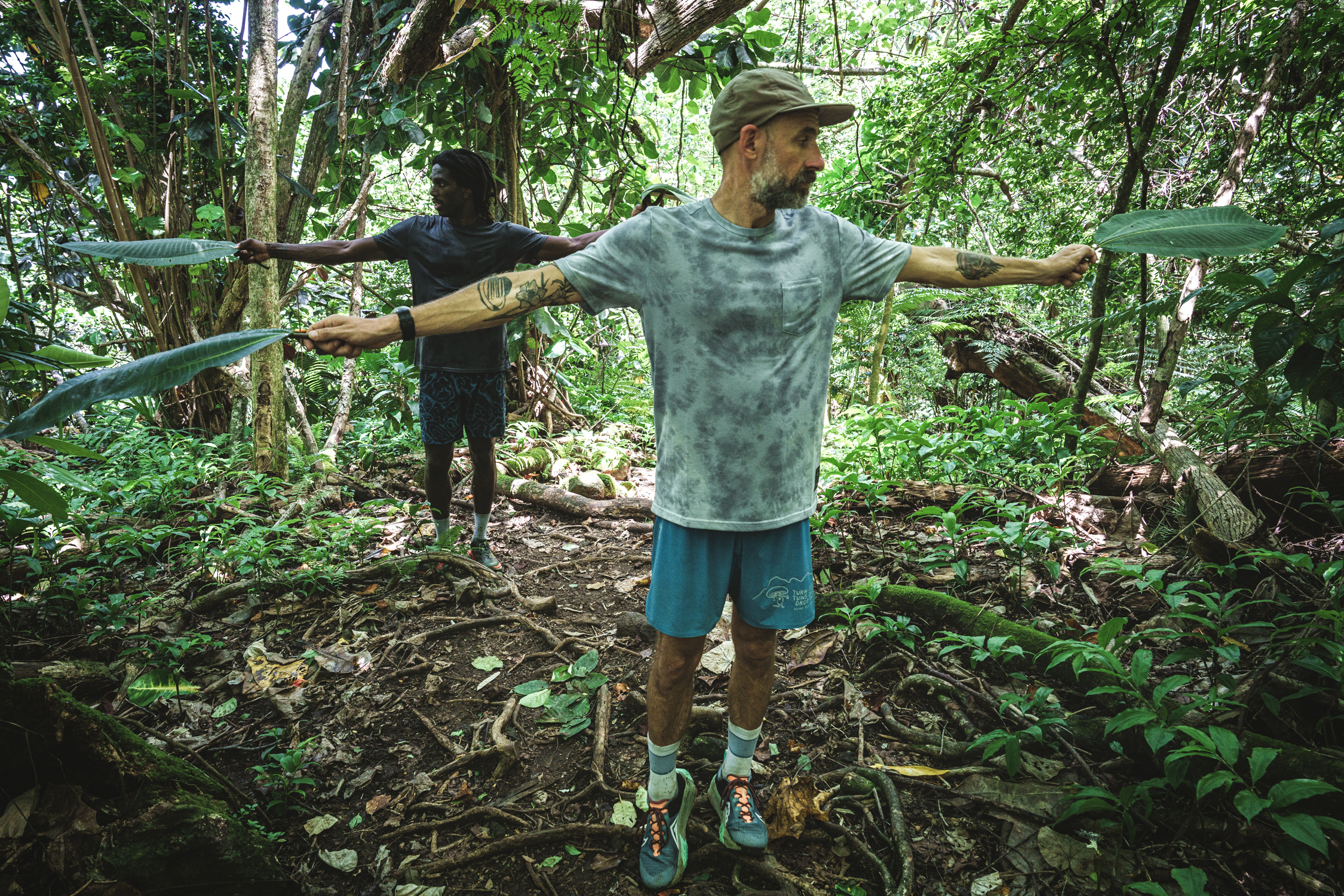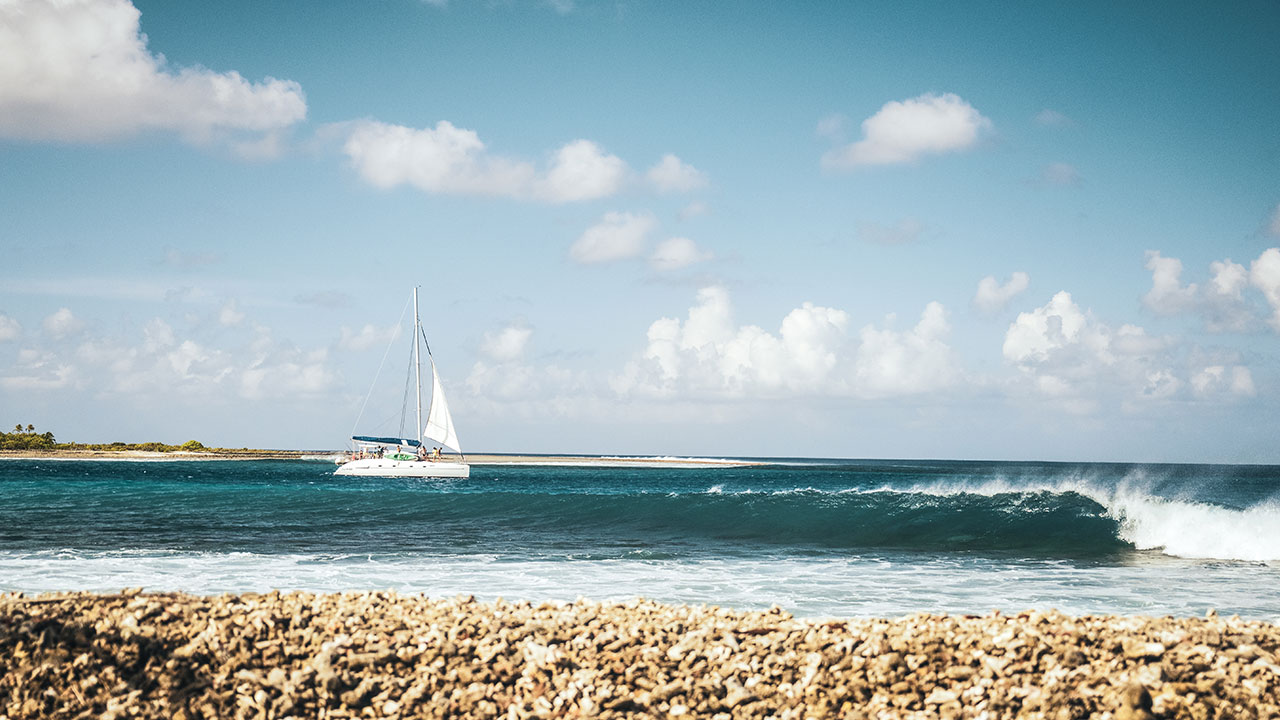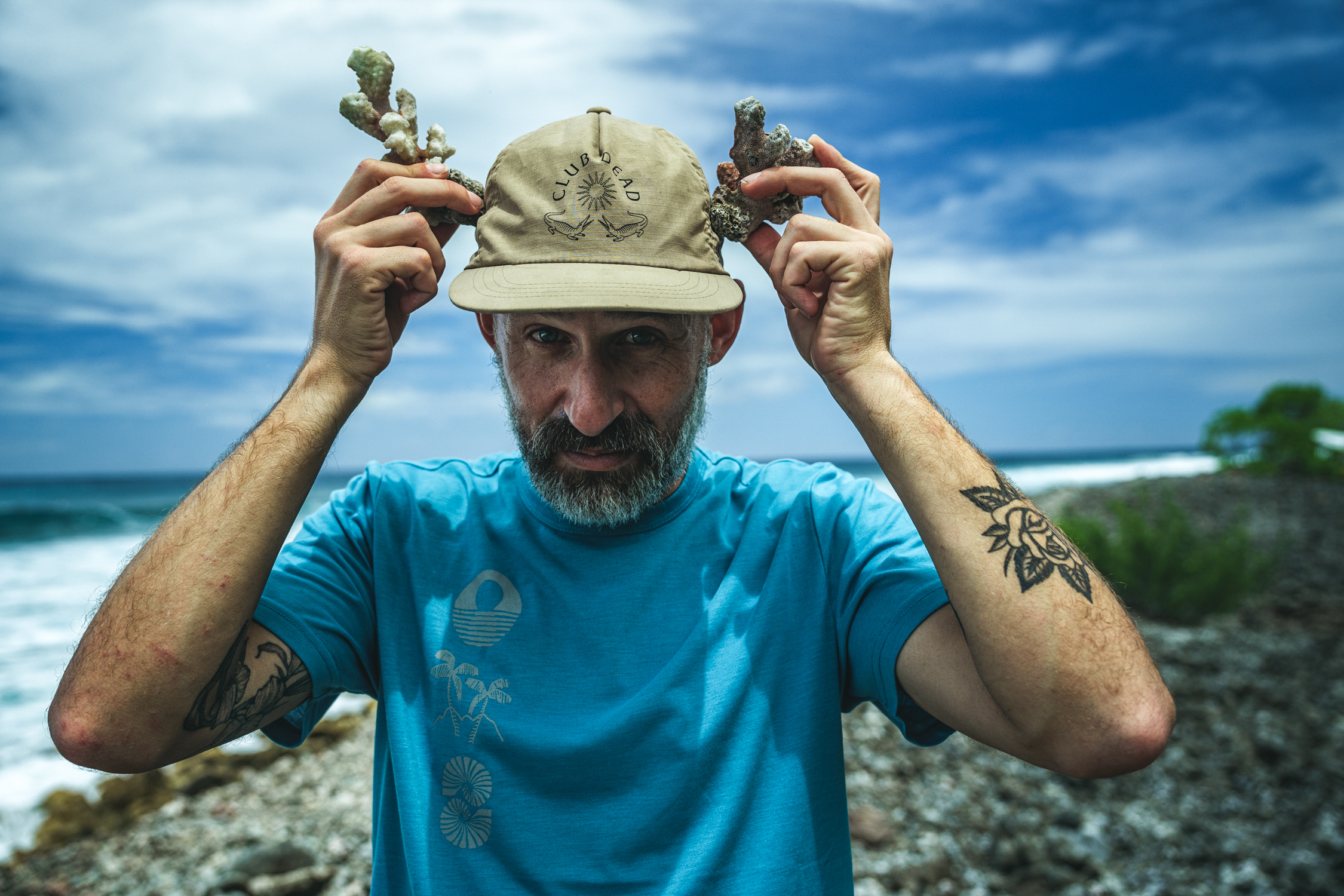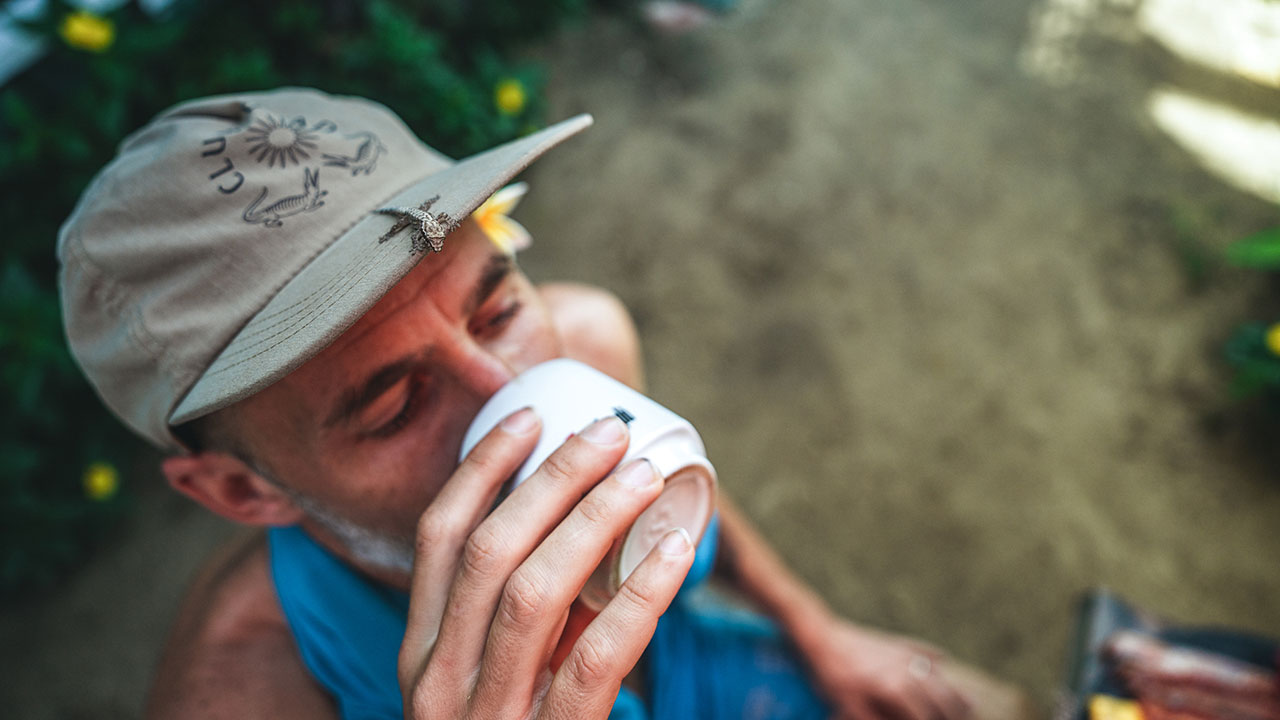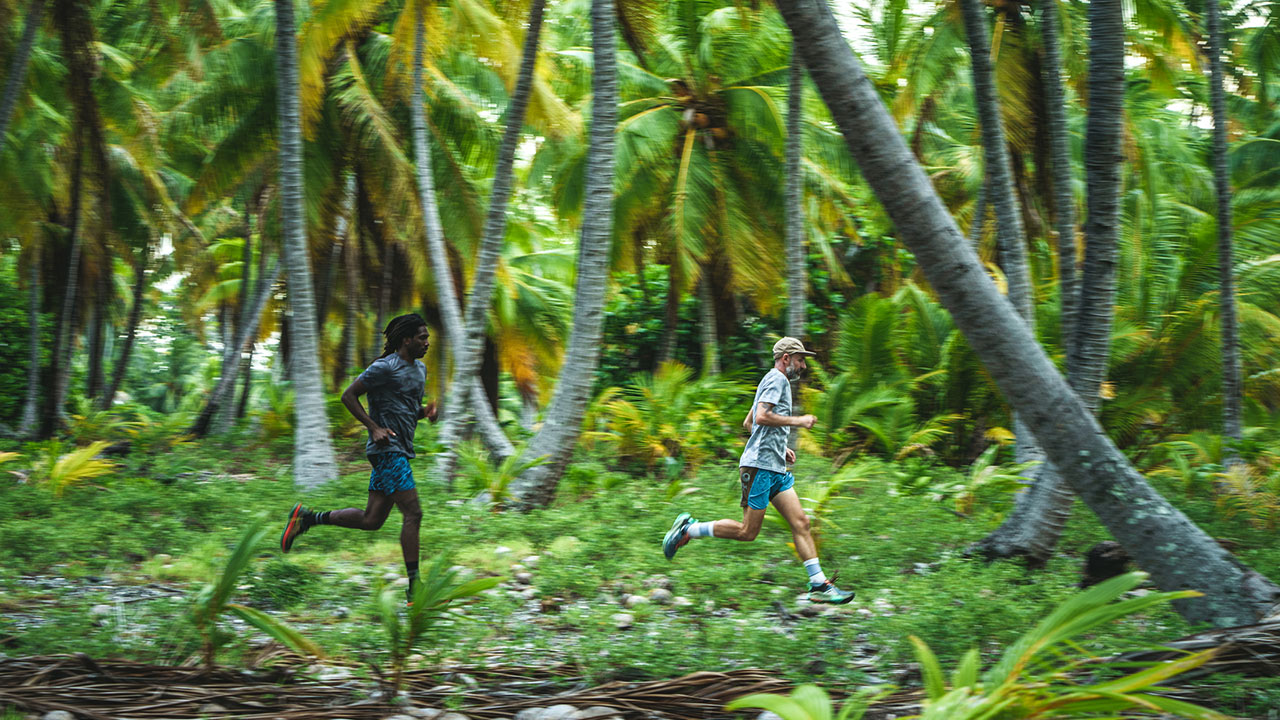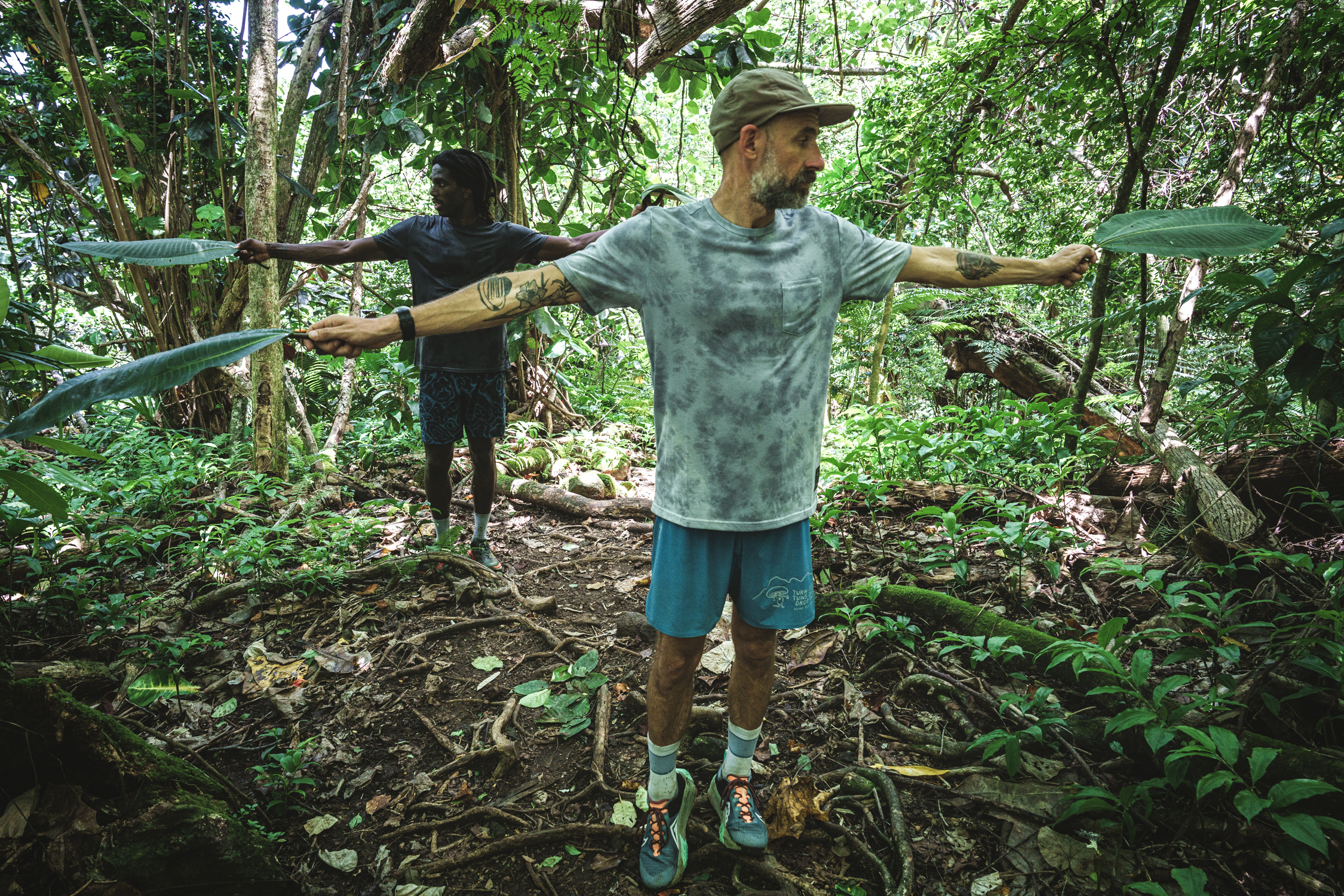 If someone was having a smoke, it would be offered for sharing. Smiles were like upside down rainbows on face after face. There was this sense of happiness that radiated from person after person we crossed paths with, which was the fuel our souls needed on this final leg of the journey. You already know what I'm about to write here, but it deserves to be written once more, Te Ao Mā'ohi provides.