Rhiannon Williams smudges the lines between adventure and art
"What we do on the rock and in the mountains returns us to a primitive past, a past in which we reach so desperately for something we can't even define." Legendary climber-mountaineer Peter Croft said that. And yet, definitions aside, there are those that do a pretty exemplary job of articulating the magic that adventurers reach for. One such human is the elusive climber and artist, Rhiannon Williams, a shy hurricane of creative genius.
Often, it can be hard to find Rhiannon in the world if WiFi is not readily available. Living and creating art remotely from her van, you might find her around Yosemite, or in the deserts of Utah, or as far south as Argentinian Patagonia. Which all makes sense. She's sailed around the Andaman and Java Seas. Began climbing in Thailand and Nepal. Learned to paint mandalas from a Nepali thangka master in Kathmandu… Indeed, there are no uninteresting chapters in the Book of Rhiannon.
Beyond becoming a talented climber, her en plein air watercolor paintings — many sketched or painted mid-climb so many stories above the earth — have become renowned works. "The mountains lend themselves to free brushstrokes that depict the energy of the moment," she says of the process. "Sometimes, the wind whips the paint across the paper, sometimes, there are dirt smudges, etc. They are living time capsules of the adventure."
Between said-adventures, we were lucky enough to catch her at ground-level and learn from this amazingly introspective traveler.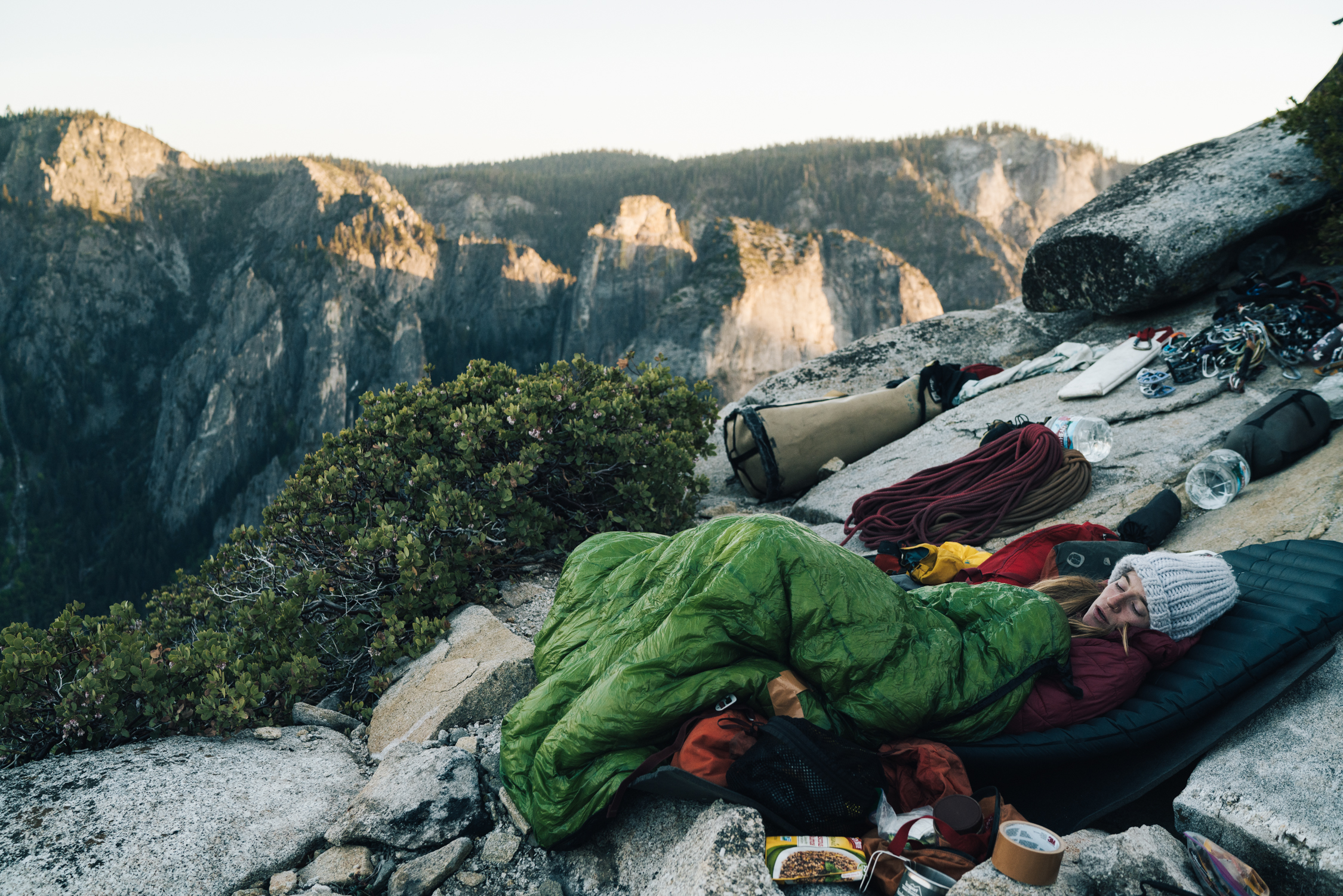 Talk to me about living on the road… Has it been so long that you know no other way? Would you even go back to a regular home?
With the exception of a two-year stint working at a wilderness therapy program (where I was mostly working way out in the desert), I've been on the road since 2013. I am quite introverted by nature so I'm very comfortable spending extended times alone, but I also spend a lot of time with other climbers whom I can always find in my regular haunts such as Yosemite and the Eastern Sierra, or the Utah desert, and as far south as Patagonia, Argentina. Cities make me anxious and stressed and I love the feeling of being out in the middle of nowhere. That being said, I am craving more of a home base for at least part of the year, mostly because I want an art studio that I can carry out bigger projects, inspired by time on the road. Being in the van provides expansive inspiration but limited space. I think no matter what, I will always travel a lot. I grew up in Wales and moved to the United States when I was 12, so I think that huge shift in culture set a tone for my love of new experiences, even though at the time, it was very difficult.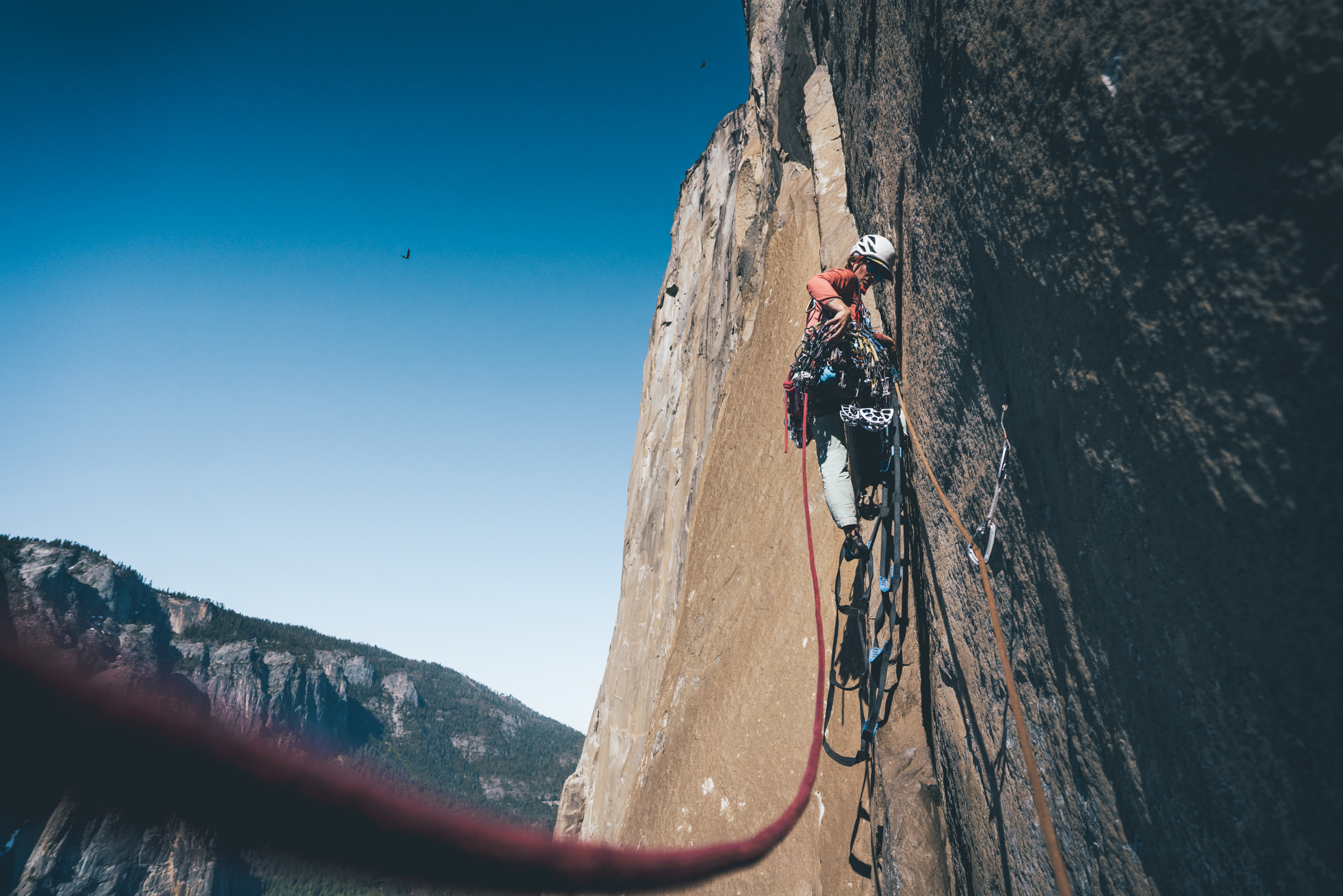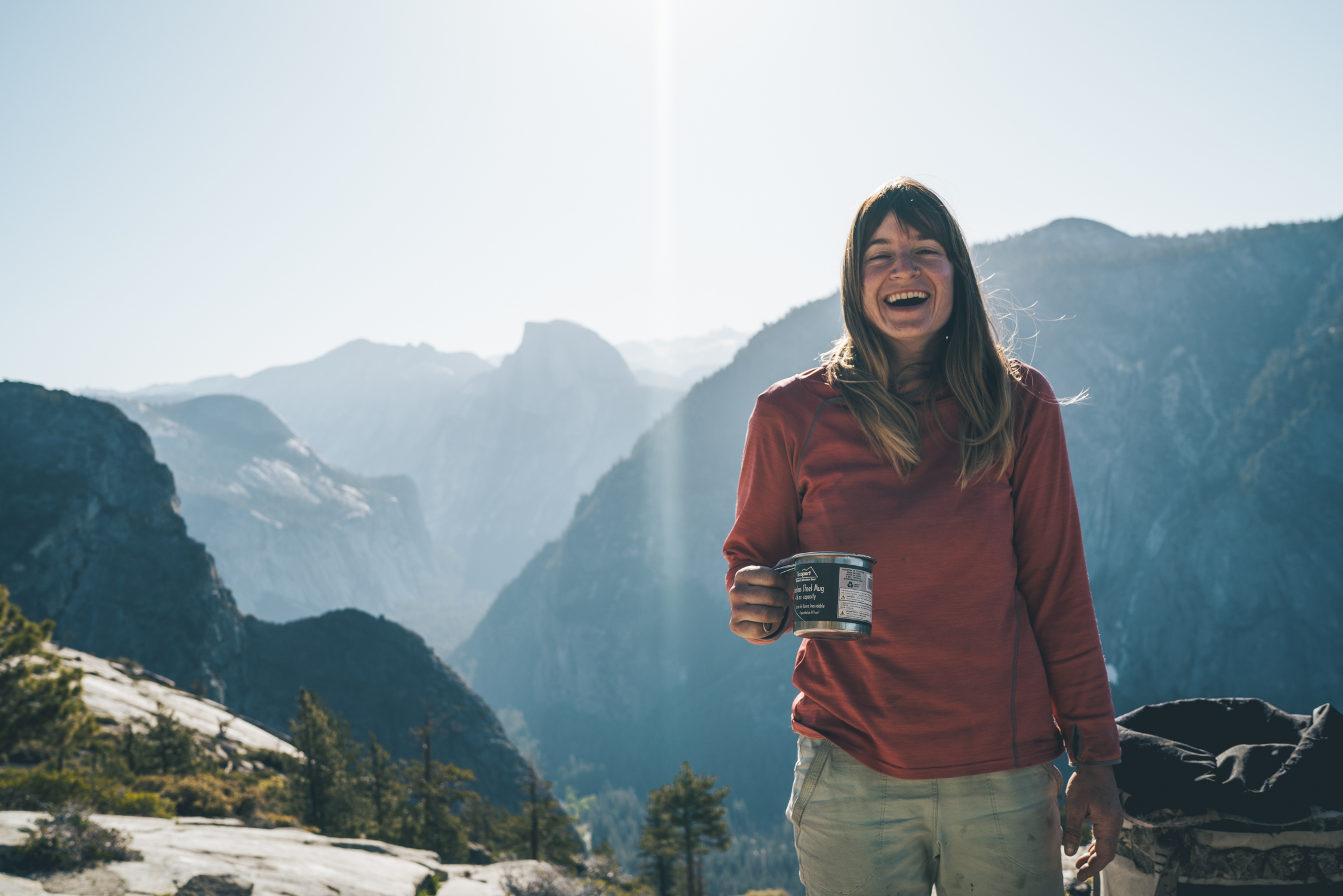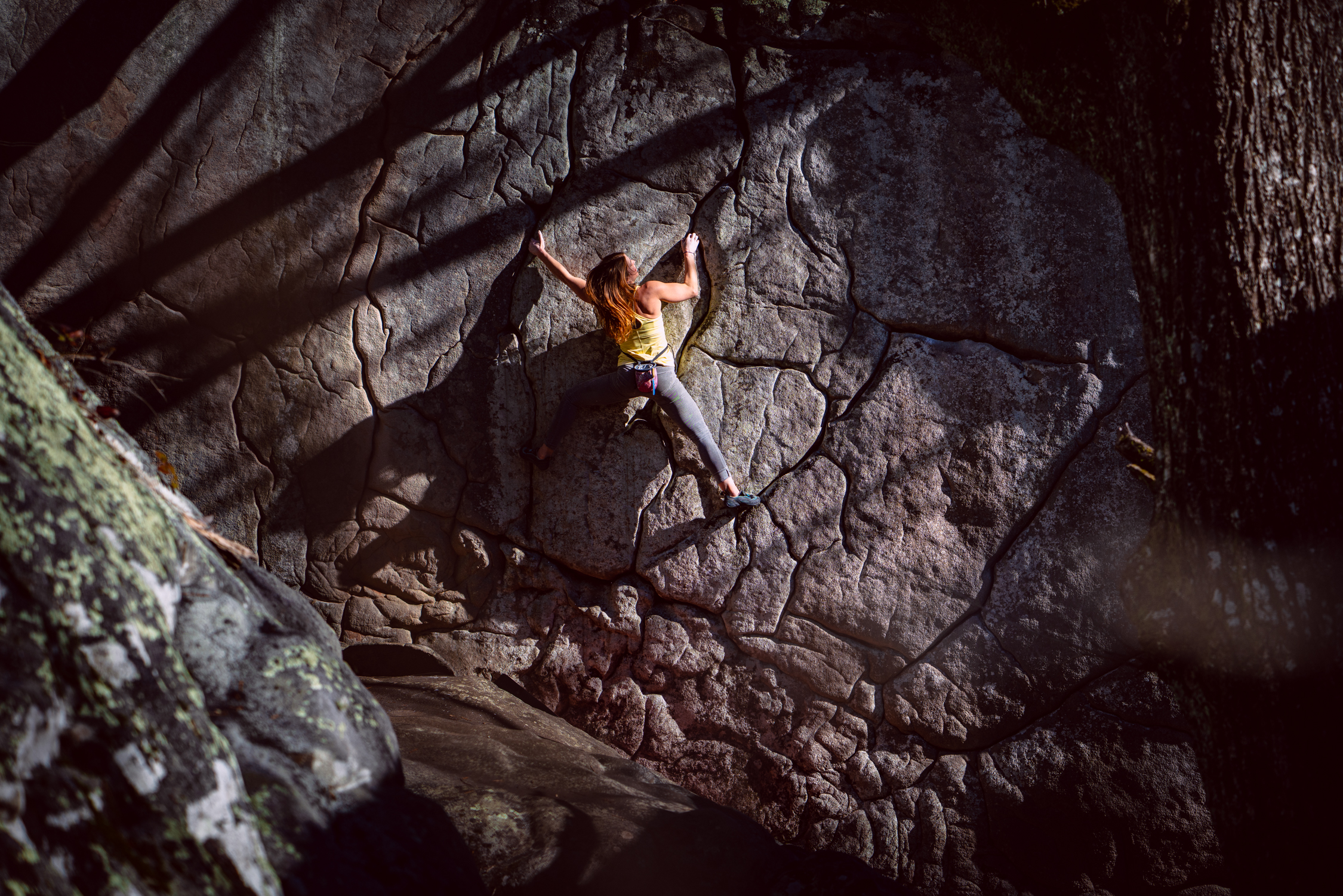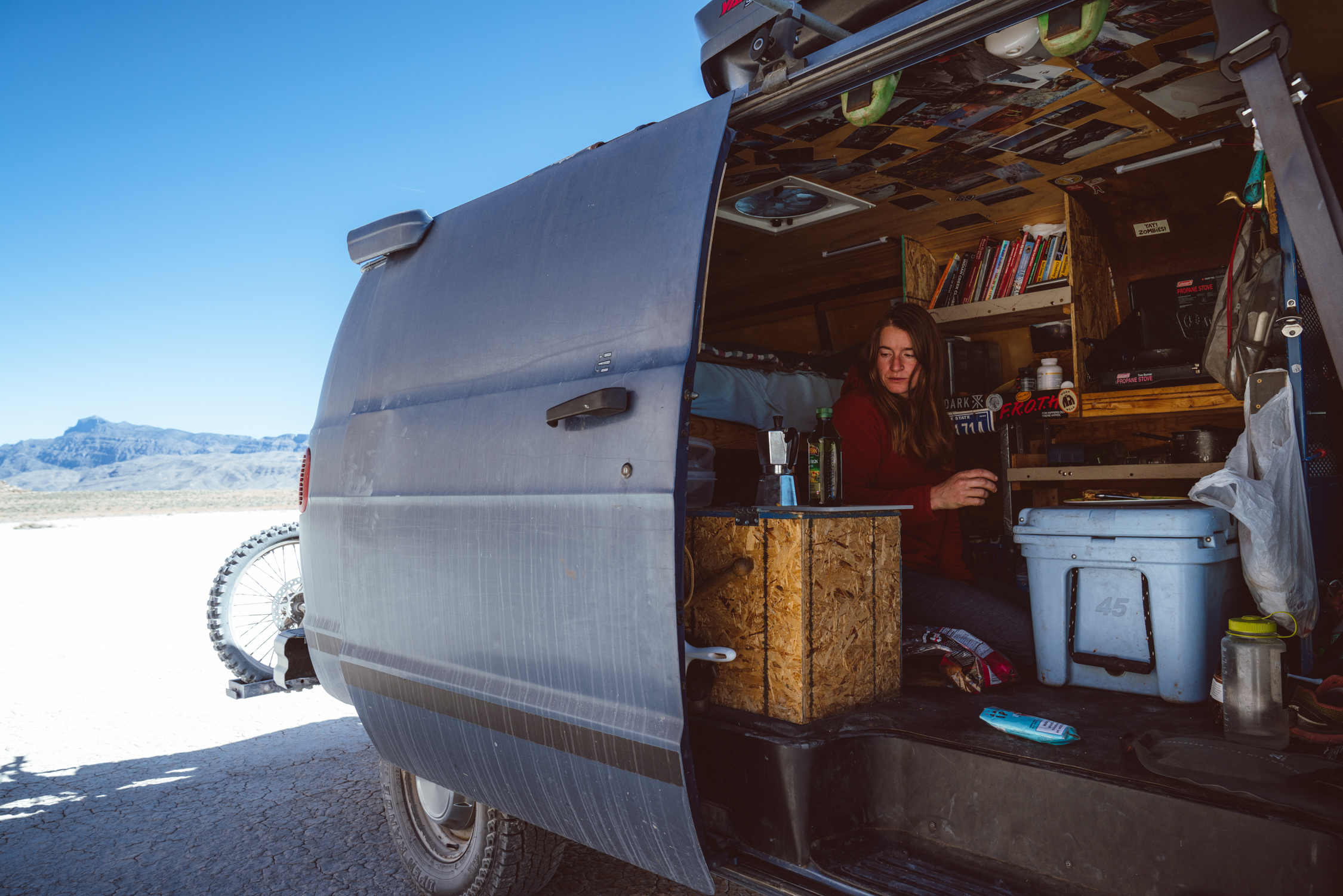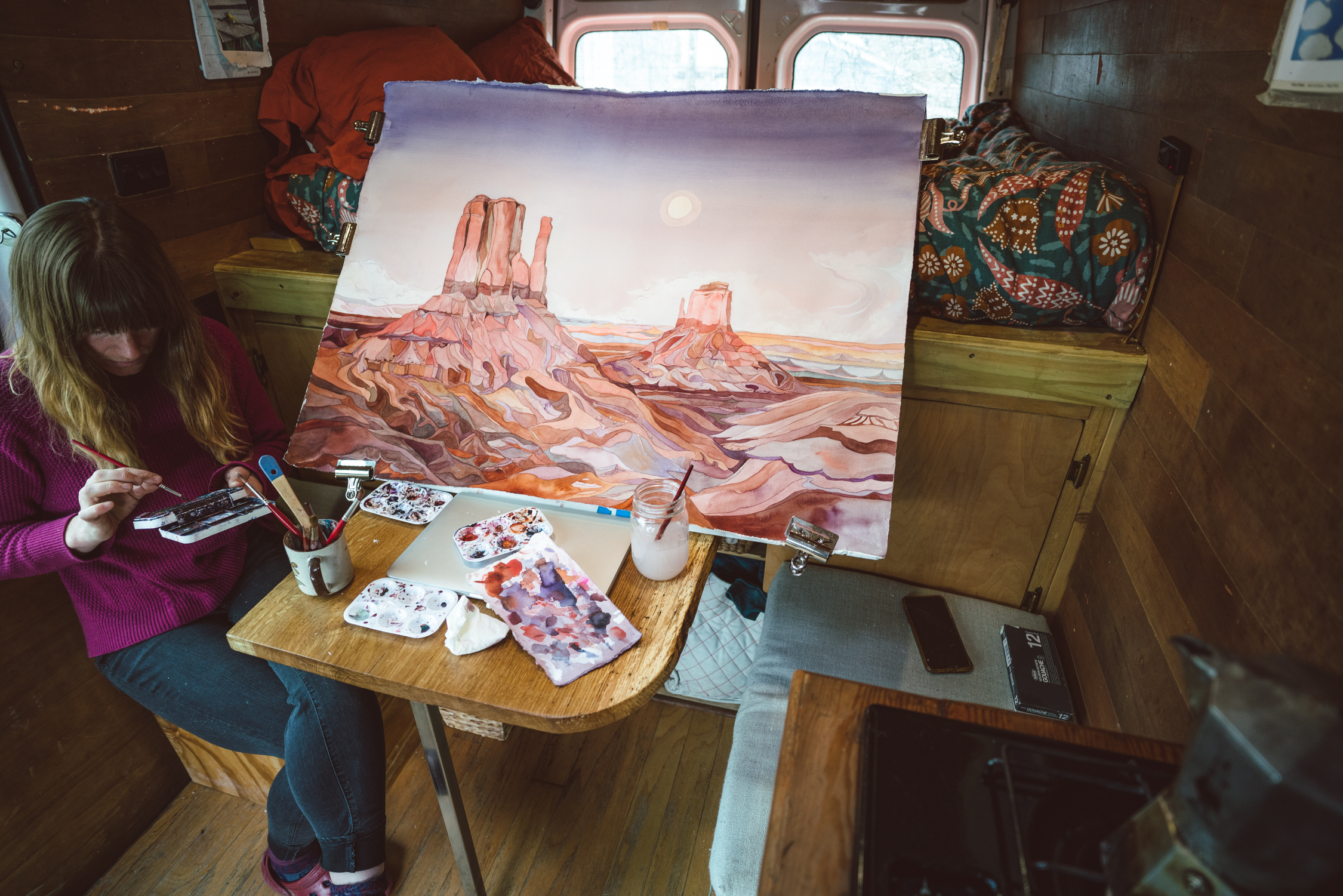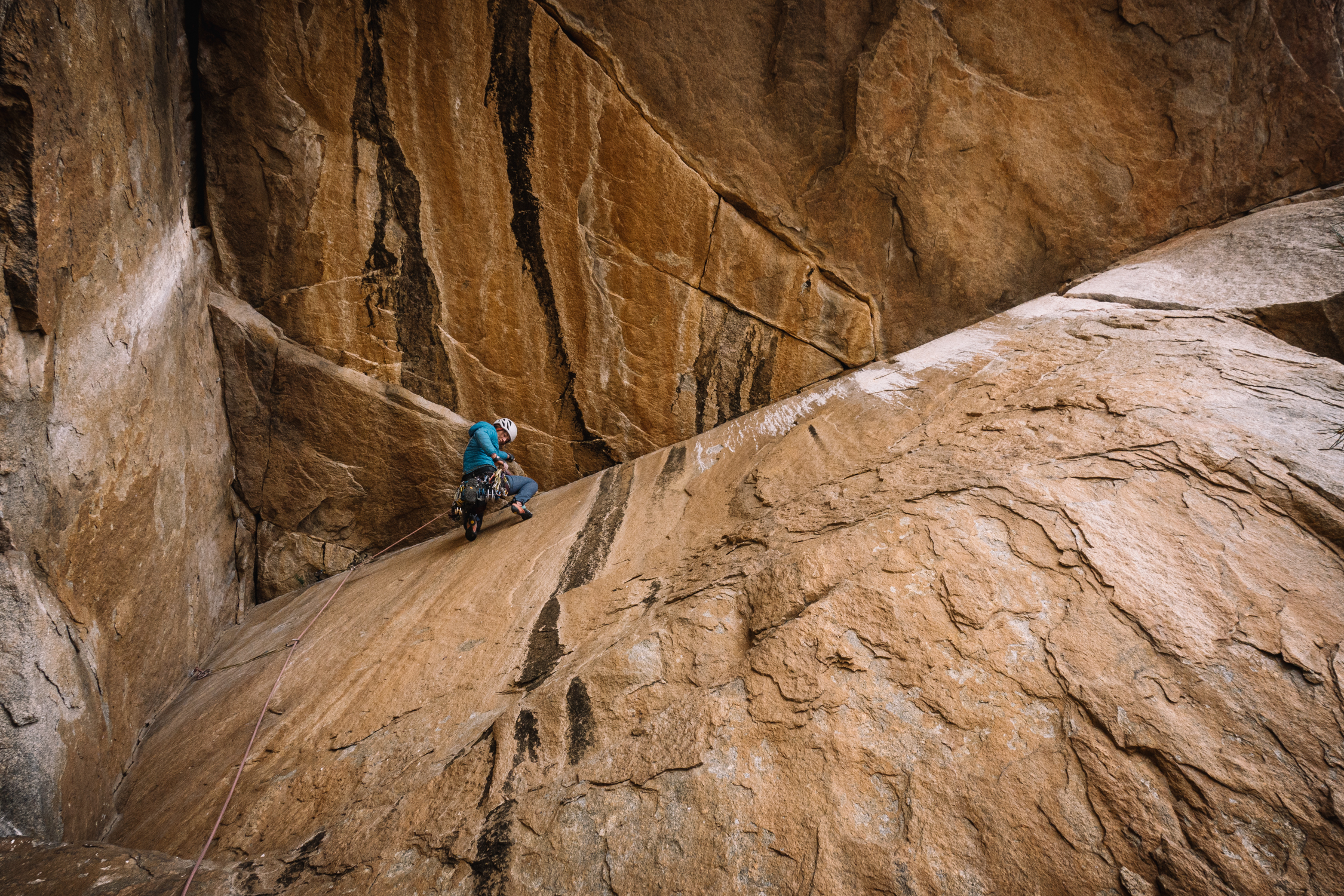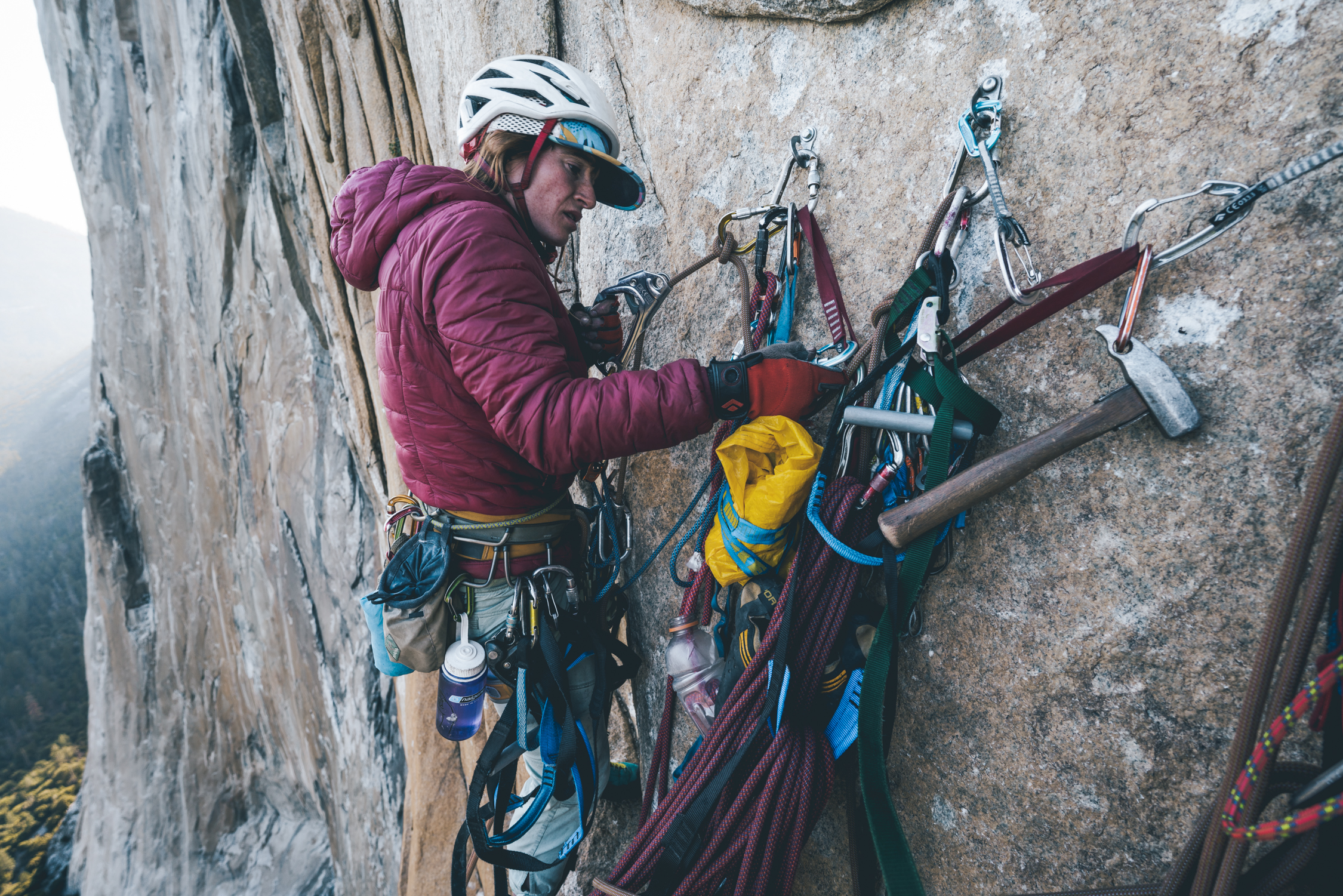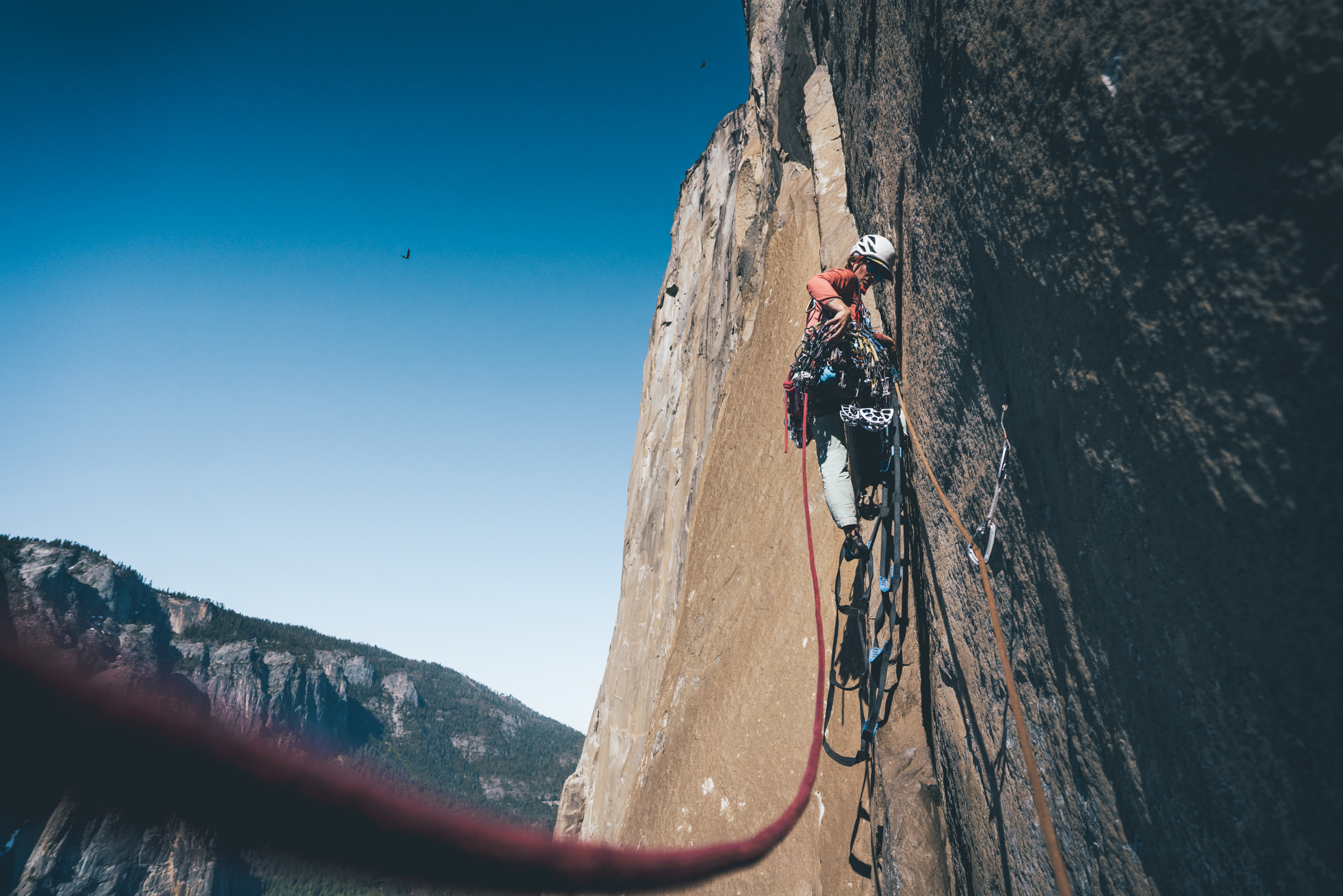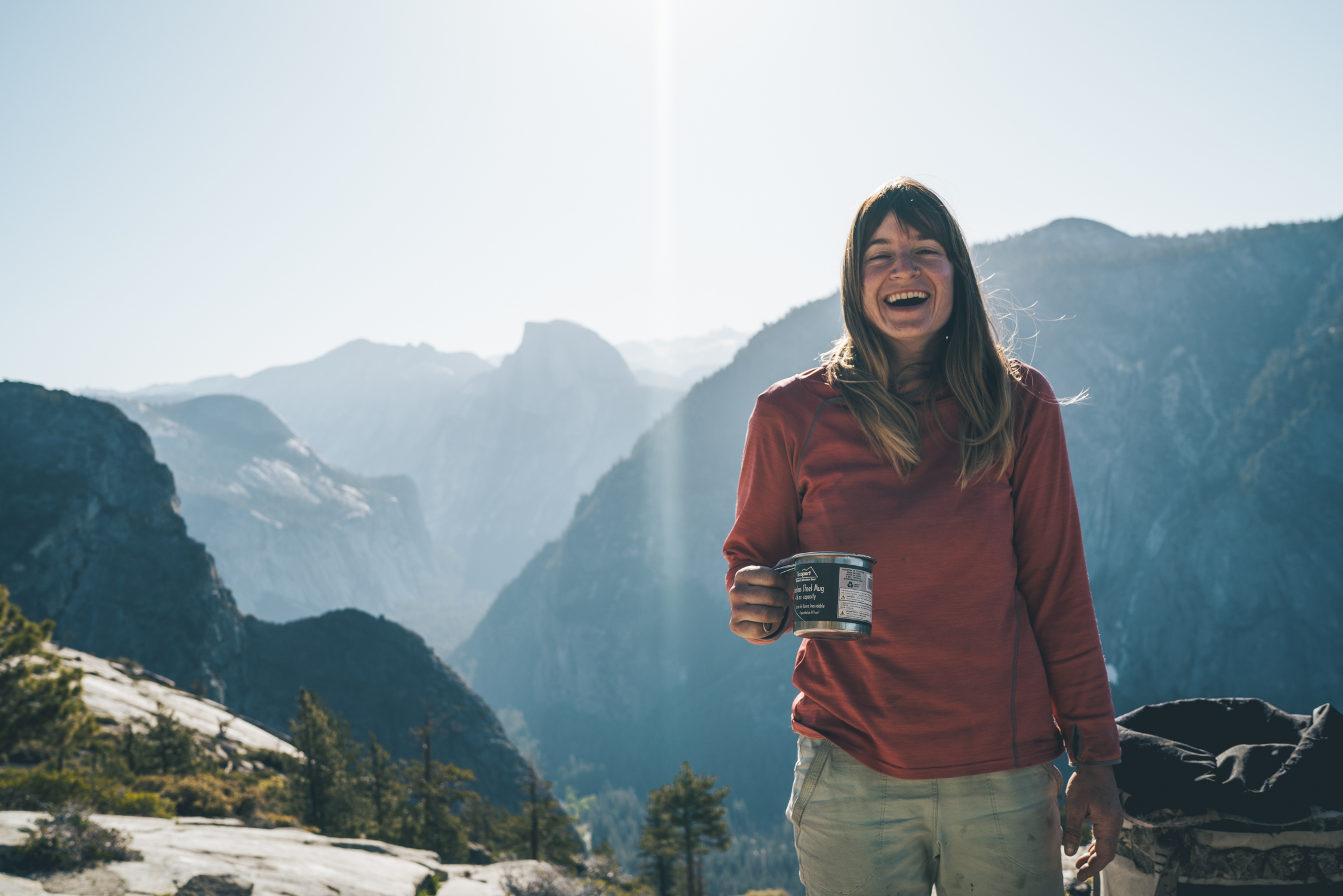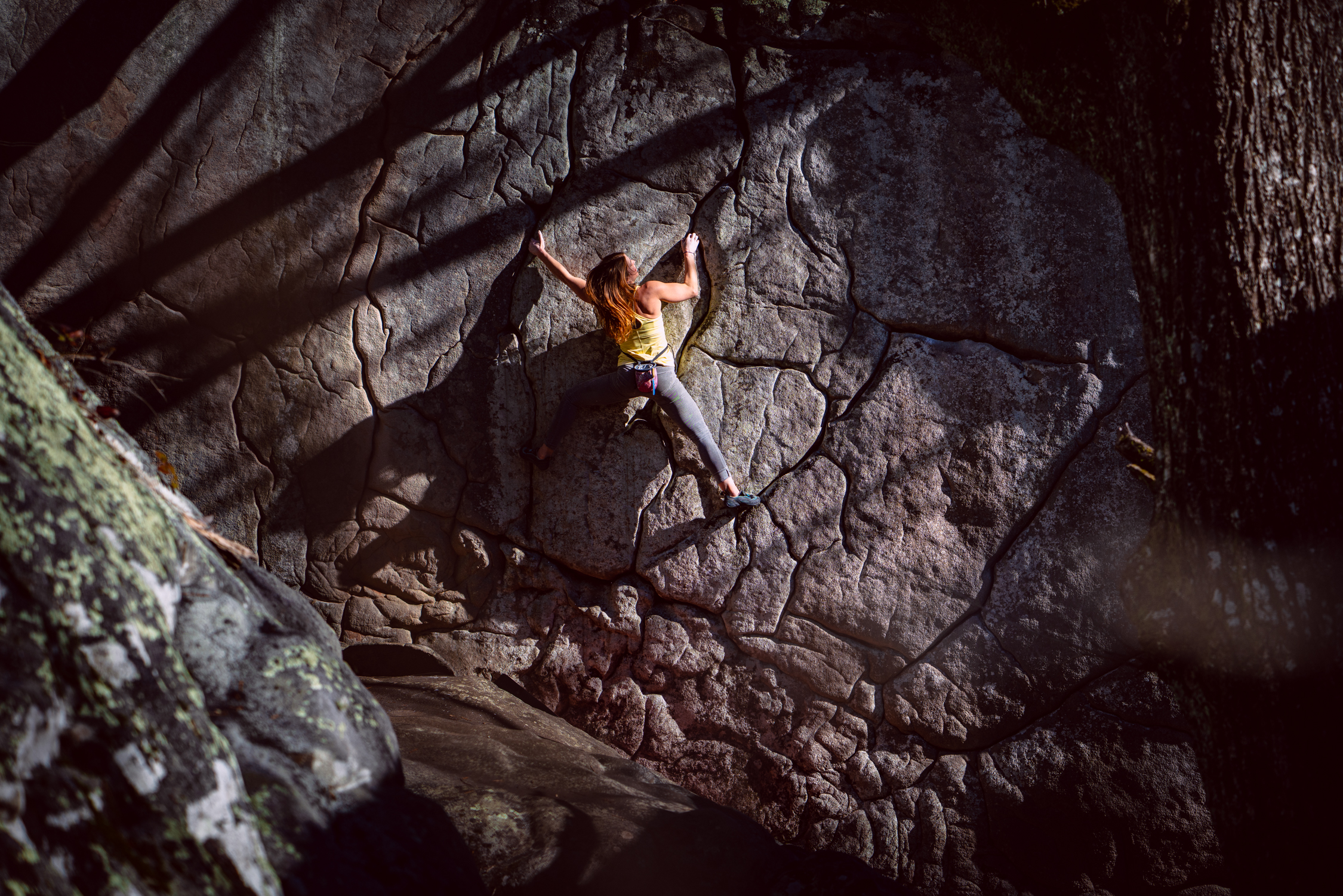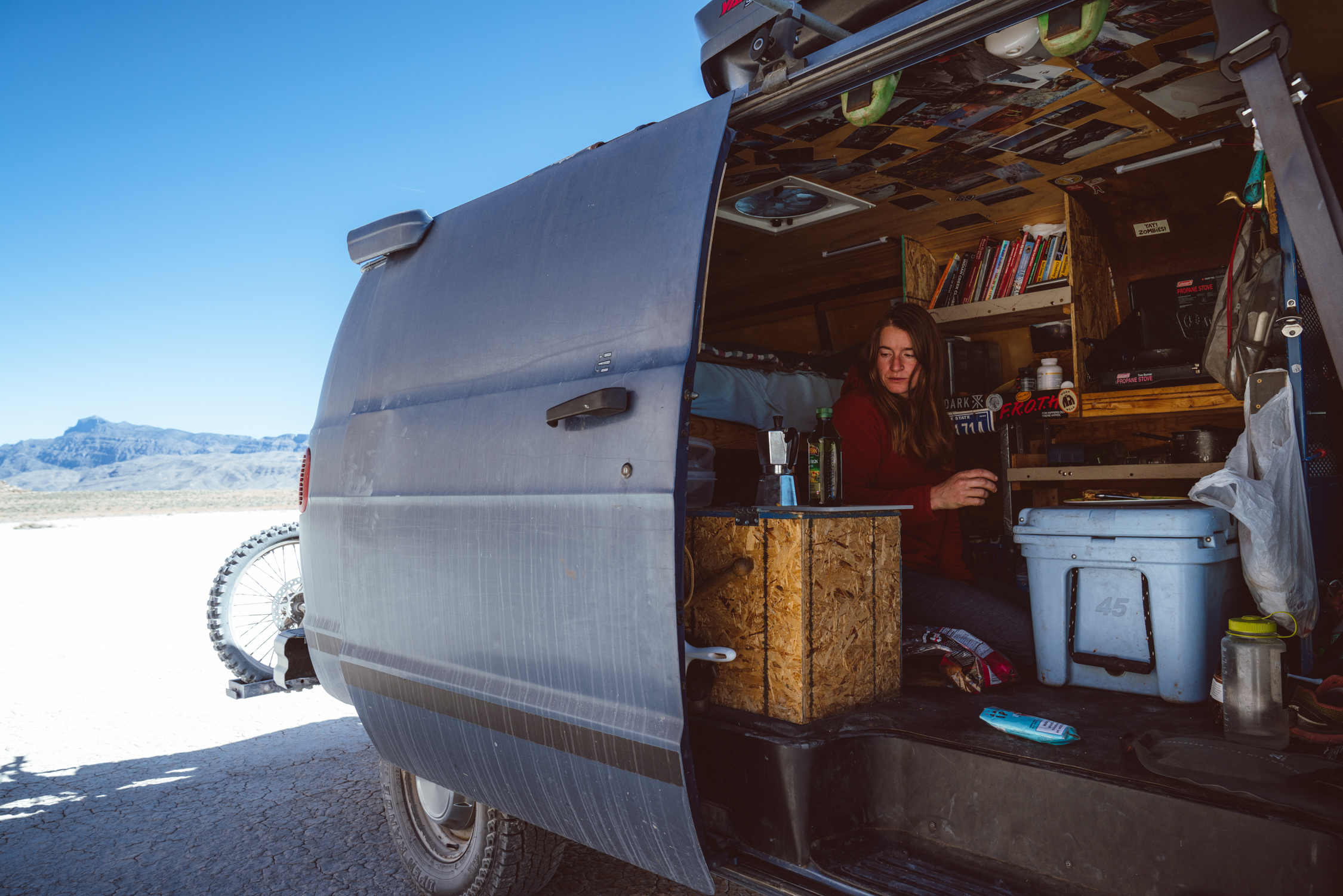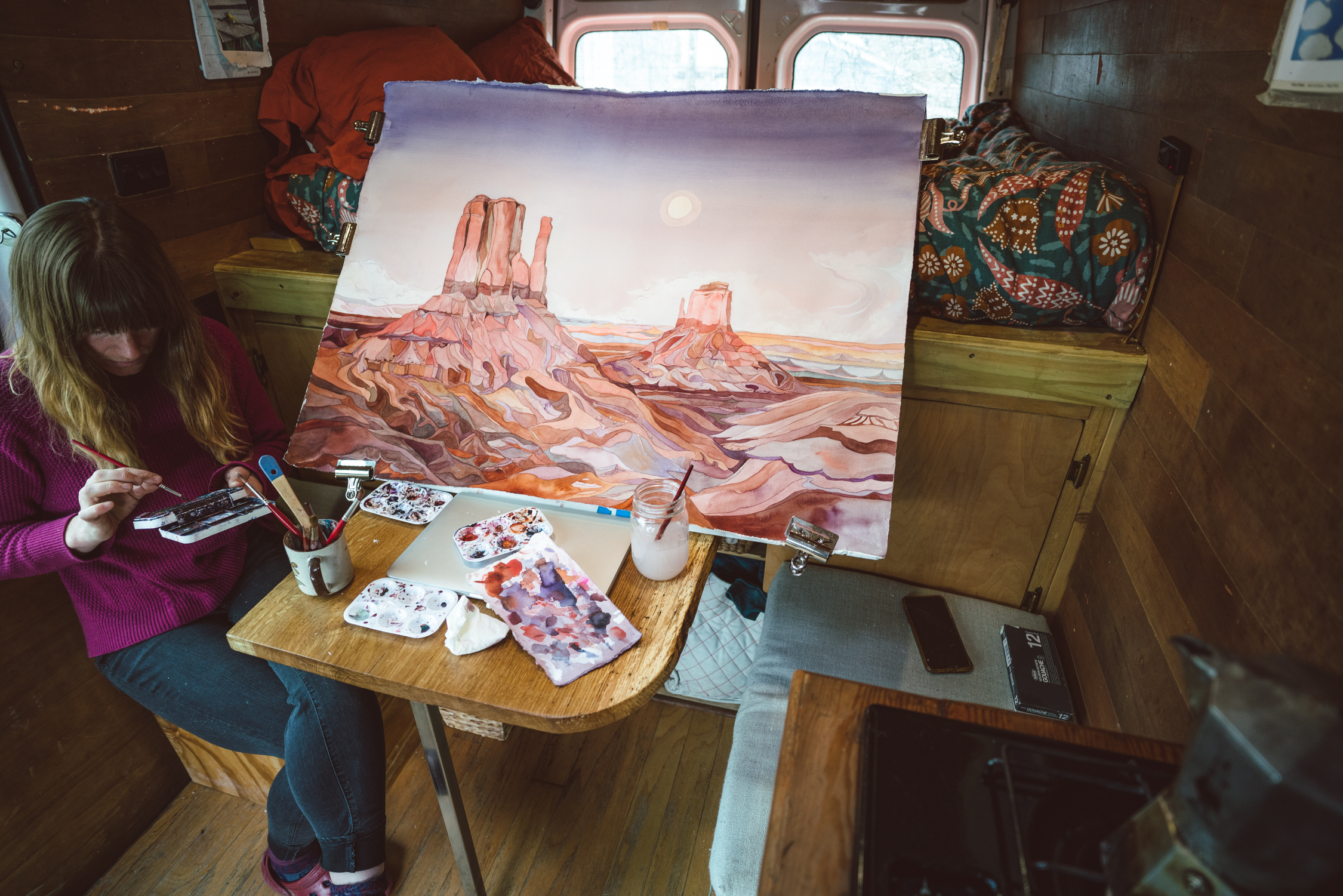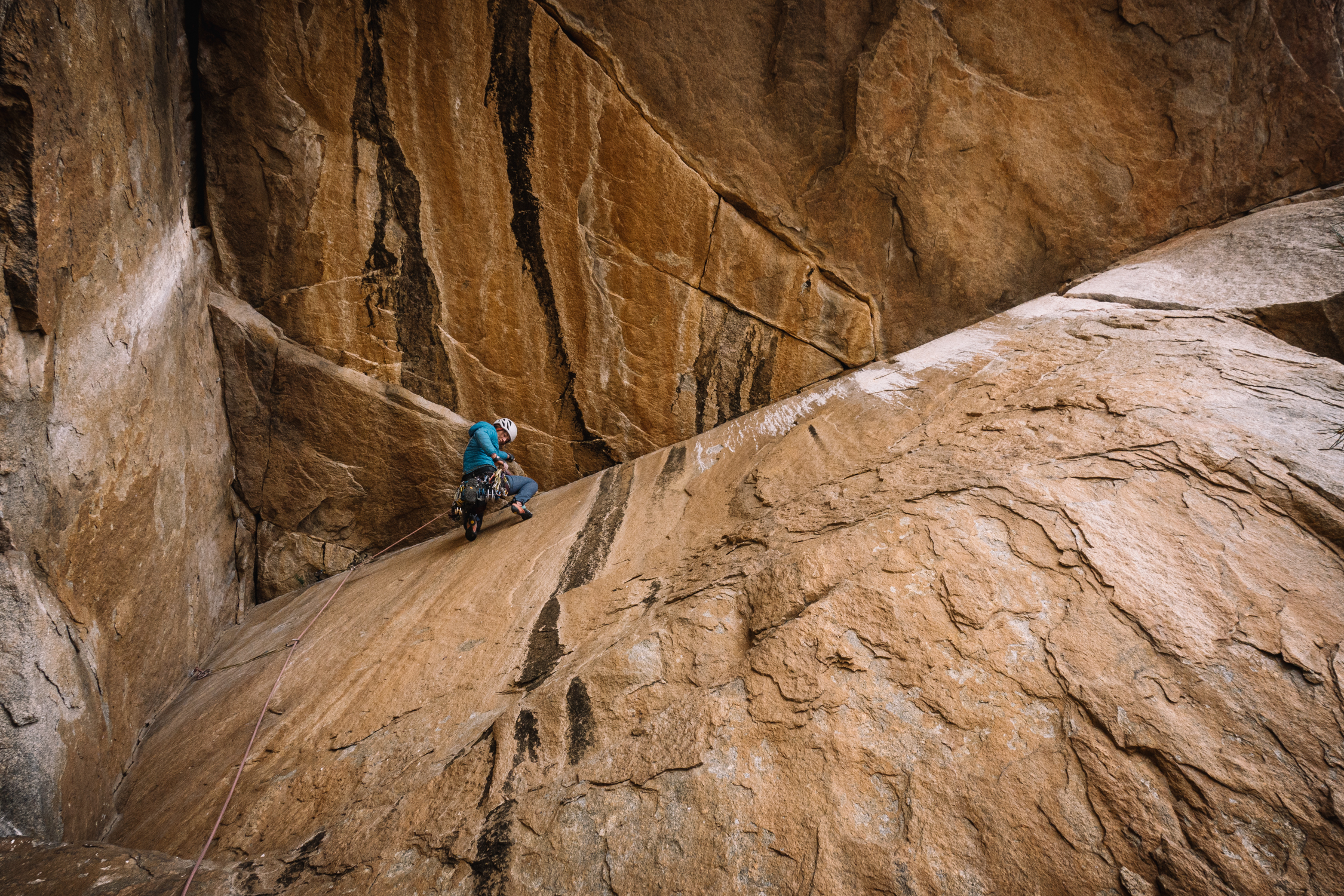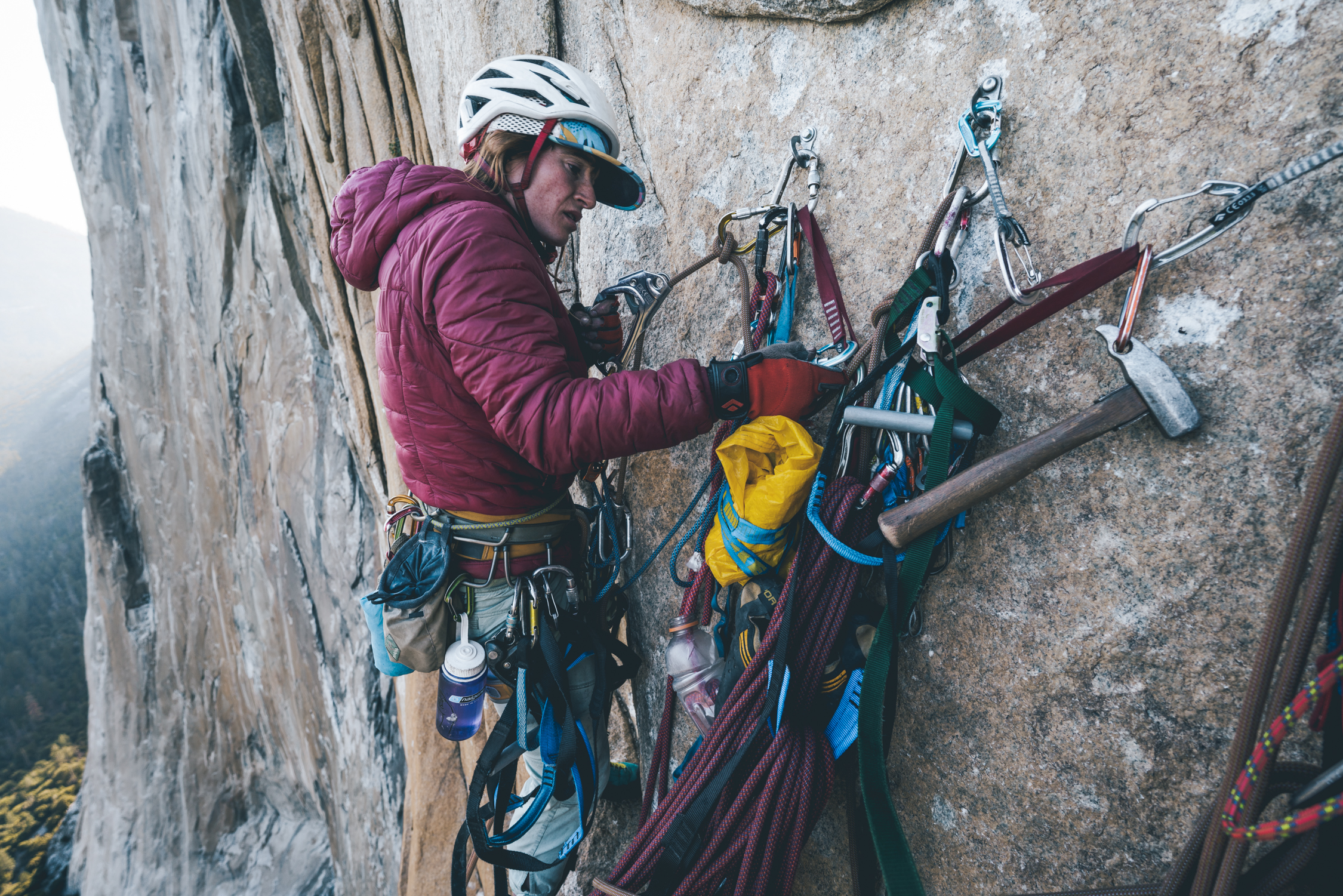 Nice, and how'd you get into creating art and painting?
I have always painted and created in some capacity. The feeling I remember most about creating in childhood is wanting to stay up late, working on my art project and then waking up early and wanting to run downstairs before breakfast so that I could keep working. I still have that feeling when I am having some kind of creative break-through. These creative periods in my childhood lasted weeks, sometimes months and then I usually burnt out. In college, I took a handful of elective art classes and they were the classes that I felt thoroughly absorbed and invested in. Studying psychology, I was always interested in how a painting has so many layers and how that relates to our consciousness: layers that we hide, layers that we accentuate, layers that get covered up completely. As for many, college was a pretty tumultuous time for me and painting was very much a therapeutic act. But ultimately, I was afraid to commit and continued on my path of studying psychology.
It wasn't until I traveled internationally for a year when I was 26 that I adopted a daily habit and practice of creating. Traveling far from home, I really felt the need to record and express what I was experiencing. I filled the pages with thoughts and sketches about the places I was seeing and the people I was meeting. On that trip I spent months at sea sailing around the Java and Andaman seas, visiting remote islands. I was on a 50ft catch, working night watches in exchange for free passage. Each day stretched into the next and there was a lot of time for deep thought and sketching. It was the most quiet, and stilled I'd ever felt in my life. I ended my time sailing with a two month stay on an island Ko Yao Noi in Thailand where I sport climbed steep limestone walls rising out of the sea.
Although I had dabbled in climbing before, this is where I really began to connect with climbing in a deep way. I ended my trip with three months in Nepal where I studied under a Nepali thangka painter and did a lot of solo trekking in the mountains. I saw his work in a small shop and asked him if he would be willing to give me lessons. He taught me the tedious art of painting mandalas, and for three weeks, I went into his little disheveled studio in Kathmandu working on each section of my mandala. Ratna Llama was from a long line of artists, I remember he told me he was "born an artist" and I was honored that he was willing to pass down some of the wisdom. Sometimes after a day of painting and drinking chai tea, as he worked on his paintings and me on mine, he would look at my work, tell me it wasn't right and then make me paint over all the work I had done to start again the next day. I learned to paint for the process and not the end result and I learned a lot about quality.
To this day, it's not uncommon for me to spend weeks on a painting and then start from scratch. It's almost cathartic to do so. It gives me a great sense of freedom entering into the work. The work is never lost in the sense that it's time spent learning and being curious. Throughout these sessions, my desire to make art a bigger part of my life became more and more certain. I wasn't sure if I saw it as a career at this point, but I knew it was extremely important for me to create.
After that trip, I took a job as a wilderness therapy instructor in St George, Utah. I worked six days on, eight days off facilitating a therapeutic process as a field guide with troubled youth, mostly with teenage girls. I continued my sketchbook practice and started painting watercolor desertscapes. I think the desert meant so much to me because of the vulnerable and deep work I was experiencing and connecting to others through. On my off shifts, I would drive out to areas like Red Rock and Indian Creek to climb, so I was creating a deep relationship with these landscapes on many different levels.
Having spent many years as a competitive gymnast and feeling stifled by rules, authority, and obedience, climbing showed me the pure joy of experiencing movement and landscape for those reasons alone. I was also learning how to trad climb with my friend Amy which was a very powerful experience for me. Applying feminine colors and shapes to bold landscapes/formations is an expression of that experience. I continued to paint the landscapes that I was spending time in and began selling work here and there. After several years of gaining momentum, I made the decision to commit fully to creating a career based on adventure and art and that's what I've done ever since.
Amazing. Yeah, the way you actually paint at the tops of peaks or en route really brings the style of en plein air to a new level.
[laughs] A lot of the paintings that I do in the mountains are more like personal journal pieces that either serve as a memento or as a reference for larger pieces that I create in my van or when I'm out of the mountains. My general style is quite slow and layered, but the mountains lend themselves to free brushstrokes that depict the energy of the moment. Sometimes, the wind whips the paint across the paper, sometimes, there are dirt smudges, etc. They are living time capsules of the adventure.
I've heard you say something about watercolor art being like the outdoors, requiring you to be creative and adaptive to the environment…talk to me about that…
In some ways, watercolor as a medium is very unforgiving. You can't paint over a mistake, but you can choose to embrace that mark and see where it might take you. There is an intuitive factor to the process. If you are afraid of making marks because you might "mess-up," the paintings feel stiff. They come alive when you let your hand move where it wants to go. I find this analogous to spending time in the outdoors in that you can't fight what nature throws at you. You have to be willing to go with it and change your plans according to the weather, conditions, etc. It's also very similar to climbing where you have to trust that the next hold and gear placement will appear as you quest upwards. If you don't trust that process, you will never make it up the wall.
Love that. What were a few of your most favorite journal sketches to do?
I've spent two seasons climbing down in Patagonia and some of the journal pieces that I've done in the mountains there are my favorite. In Patagonia, the weather is very unpredictable so you spend a lot of time in your tent writing or sometimes getting completely shut down. Those mountains are the biggest and most intimidating that I have climbed in and so I think a lot of my anticipatory energy got filtered through my paintings and there's a real buzz about the imagery.
Is there one that's more dear to you: climbing or creating art?
Truly a toss-up. At this point, they are so intertwined in my life, there's hardly a distinction.
Often, the "outdoor/adventure space" has been represented by men — on magazine covers, in ads, film — is that what you see today, or in the climbing world? Any changes?
I've seen a huge shift in the past few years. Women are pushing the envelope in all areas of the sport. I would say there is still a lack of representation in specific realms such as alpine climbing and big wall climbing but it's moving in a direction where I feel there will be more equal representation in the near future. The more women we see out there in these adventurous spaces, the more we can envision pushing ourselves in that way. I like to depict bold landscapes and formations through a feminine creative lens to make that point.
Awesome. As far as being out in nature and exploring new zones that you've never been to...what are some "codes" you live by?
I'm not much of a planner. I like to just go, sometimes very impulsively, or on a whim and I like to let the place dictate the experience. If you try to control too much of the experience, I find that you can completely miss the mark. You miss out on what the place has to offer you because you forget that you are just a tiny piece of the big picture. It brings me back to my love for the watercolor medium. It can take you to unknown places if you don't fight it and let it guide you.
*Discover Rhiannon's art at: https://www.rhiannonklee.com